CacaoCafe
Play as a young pochteca and start your very own cafe in the ancient city of Koatlan. Gather ingredients, cook delicious meals, and even trade with other merchants to put Cacao Cafe on top!

Use your mouse or touch, follow the instructions and become a great chocolatl merchant, while listening to some stories of the ancient Mexicas.
Based on the game cover art made by Raia for the Famicase show 2020
-----------
Juega como una joven pochteca y comienza tu propio café en la antigua ciudad de Koatlan. ¡Reúne ingredientes, cocina deliciosas recetas y negocia con otros comerciantes para poner Cacao Cafe en la cima!
Utiliza el mouse o touch, sigue las instrucciones y conviertete en un gran comerciante de chocolates mientras escuchas algunas historias de los antiguos Mexicas.
Basado en la portada del juego realizada por Raia para la exhibición Famicase 2020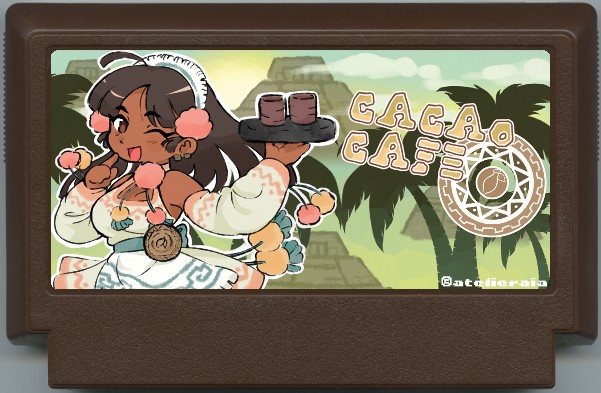 Theme Jams and restrictions fullfilled:
Great Harvest Jam: https://itch.io/jam/-great-harvest-game-jam
Theme: AUTUMN
Required Color Palette: (Pear36)
The game uses that palette.
Game ends on the 15th month of Aztek calender: Panquetzaliztli, starting on dec 6 and lasting 20 days (end of Autumn)
Vin Jam Collectibles: https://itch.io/jam/vimjam
Theme: There and back
Interpreted as a travel back to real history (mexicas, chocolate and retro games) and taking in back on modern cooking games mechanics keeping the retro style.
Collectibles: Cacao, Corn, cacao beans.
Extra Restrictions:
Theme party: Pallete Jam, Turn based jam.
In a song: Game music procedes from a large single song (Yaokuauhtli, from Yolteotl) cutted to make 2 diferent feel loops.
A game by it's cover: https://itch.io/jam/a-game-by-its-cover-2020
Selected cover 236, from the 2020 famicase show, made by Raia
"Play as a young pochteca and start your very own cafe in the ancient city of Koatlan. Gather ingredients, cook delicious meals, and even trade with other merchants to put Cacao Cafe on top!"
Theme and restriction:
LOW-TECH (Ancient Techniques Only): Interpreted as ancient game draw techniques, and ancient historic cooking and farming technics proceding from Mexica culture.
The game shows and explains the use of ancient artifacts made for cooking.
Hipanic heritage month jam: https://itch.io/jam/unidos-online-game-jam-2020
Theme:Celebrating Latinx Culture
Game is based on real traditions, customs and techniques from Mexica culture.
Challenges:
Mother tongue: Game is entirely available in spanish and english and included original nahuatl names for artifacts, months and food.
For the patria: Game focuses on floklore, techinques, traditions, food, artifacts and socials from Mexica culture.
Paz: Game is not violent in any way.
Carnaval: Game uses prehispanic styled music and enviromental sounds.
Old school: Game uses a less than 256 pallete.
How to play: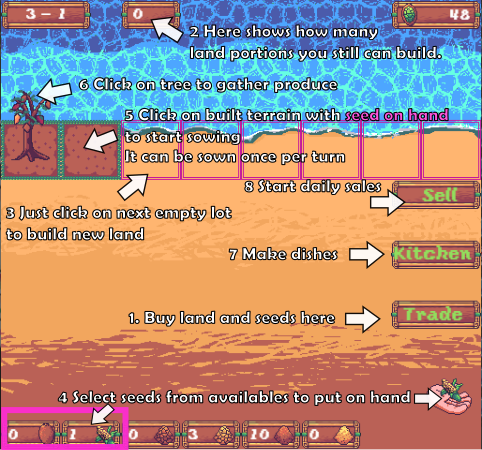 Comments
Log in with itch.io to leave a comment.
How do you crush the dough? There's no instruction for the cooking.
The traditional method is by hand.
You just crush it between your hands clapping.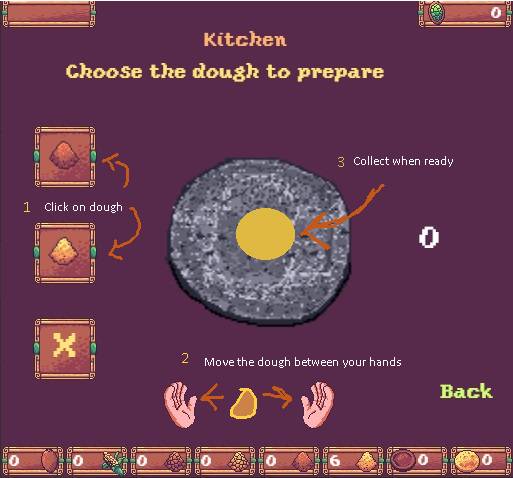 In the minute 3:02 on this video is shown the traditional way.
Instructions for the cooking are shown on each stage, but it seems they are somehow ambiguous, i will insert detailed instructions later on.

Thank you for playing!
I'm glad you enjoyed it, it was made as quick as possible to upload in time because of the jam, maybe sometime later i will polish it. Thank you for playing.
I would benefit from an in-game walk through, I think.
Hello!
Yes, I know that would help to improve the gaming experience, but there was a time limit on other jams this game entered and I didn't add any more things to it.
I will consider your comment for future versions.
Thank you!
How do you play the game?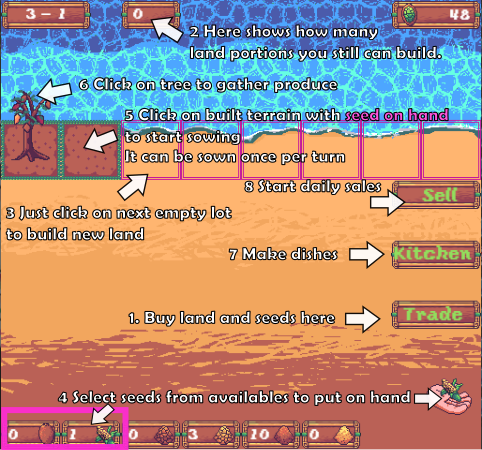 Use your mouse (PC) or touch (Mobile)


Those are the first steps, each artifact to dish has it's own mechanics, just follow the in screen instructions.
Sales (8) are done automatically, just get enough dishes to sell.