CubeDudes-Farm
Update Aug 22 - Jobs! Clinic! Bar!
---
A big update!
It took some time to get back to this project, to conmemorate its birthday I decided to work hard on this holidays to improve, add and fix, and this is the result.
I wanted to work deep on the personality of every character in game, and i discovered they start to live by themselves, in fact there is a hidden scene with one of the girls that turned to be lovely, I really want to make all of them alive, have their own troubles, needs and a real life besides being just NPCs
So i create a lot of people to make the town lively, there is still a lot to do, but they are starting to live in the town, I'm starting to think it's because I made the bar, and now they can gather there to enjoy the mood and get some drinks, but some of they don't come there, they have their own needs and motivations, and that's cool.
First new person that come to live was Mark, he is the bar owner and he wanted a beautiful girl that help him as waitress... No one suits that place better than Jen, I will not give any comment about Jen, just go and meet her.

Then more people wanted to join the town!! As soon as I started to work on their faces, they jumped off the screen and tell me: I want to be like this or like that...
In fact when I drew Jack, Stan inmediately said: This will be my best friend, so make me have fun with him! Their relationship is great and full of adventures.
Then it came Morty, Jake, Pete. Jake and Pete already existed, but they didn't even have names! Now they have... name and character.
At the same time the bar opened, also the restaurant, but there where no one to attend, so here came Lauren, and she told me: I want to attend my customers, but please, give a special attention to the player. So... we made dishes and mechanics to make the scene lively.
Jen said: I want the same that you gave Lauren, It was not possible, but the bar recieved an image renewal: lights, bottles, glasees of beer, items to sell (with their own icons) and customers here and there.
Last, but no least, I found the townies started to get in troubles, and they need someone to take care of their health, so Luke, the doctor came to scene. A serious and smart guy who love to take care of people even when looks a little bit cold.
As soon as he entered his clinic he asked for a nurse, which clinic will not have one?
So, the discrete and smart Emma appeared.
As part of this update, I decided to start working on the jobs, to make funnier to work , first candidate was Moo Farm, there is a lot to do there, give food and pet the cows, fill water on the drinker, collect and trash their waste... yuck.

And then Karen knock the door asking for this upgrade too, so I decided that you should herd the sheeps, using a bell. It was cool to make them move from one side to the other.
I'm waiting for Ceci to ask the same for the chickens, but it will be on a later update.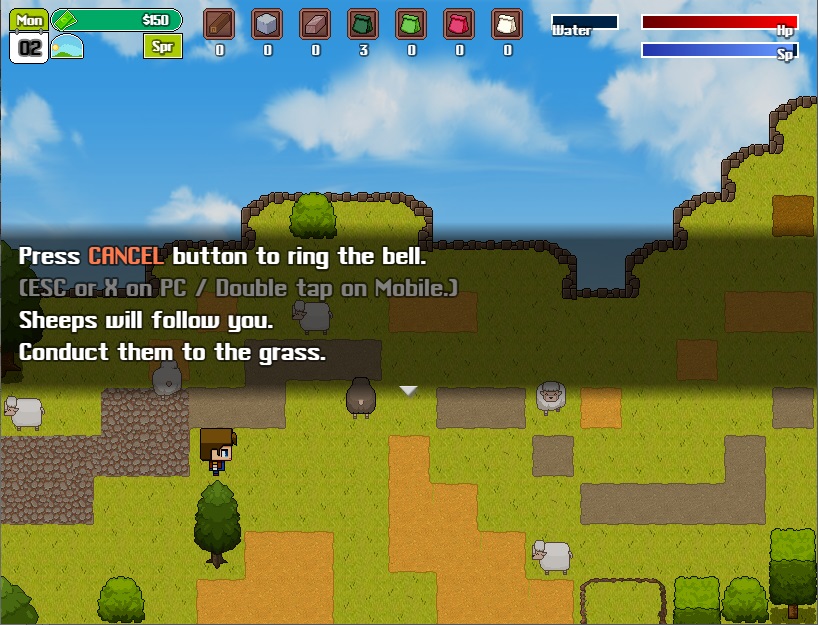 Bug fixed, cut scenes upgraded, animations and systems:
Event script added to the end of the talk. When girl is near his hour to left she says bye, then she left. Also this event fixes character sideview.
Bug on change map: related to change ambience sounds by time.
Correction: Seeds can only be used on the field.
Surprise box at postal office: Now it have better prices!
Horse dealer: Now he only appears on certain days.
Added Jack scene and dialogs.
Upgraded intro scene, added animation to the character to say yes or not.
Money change upgraded and animated.
Change ballon animations!!
Bar and restaurant are open!
Girls are out!!! Now you can talk to them outside their houses in a scheduled time.
Added icons for all veggies! - Need to make my own, but they are better placeholders!
Herd sheeps added
Clinic: Nurse and doctor added!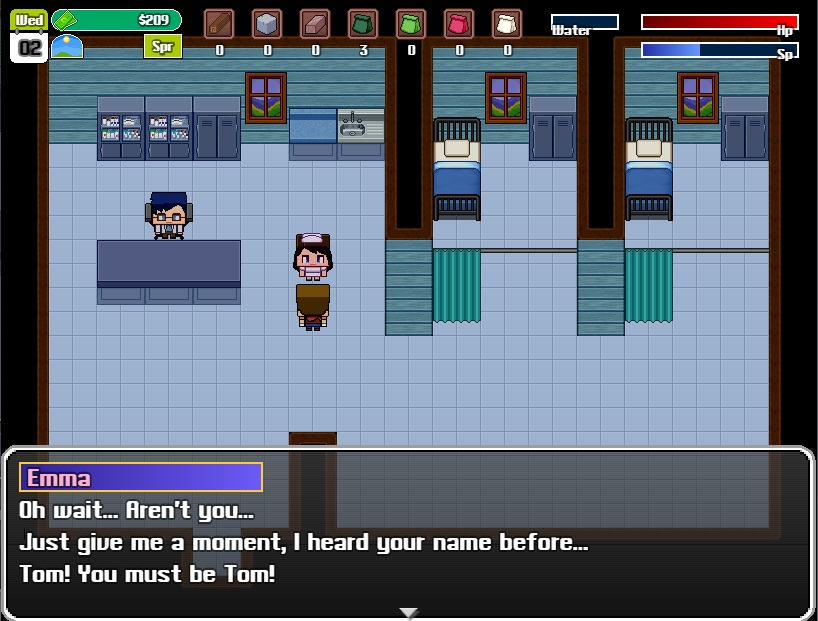 Please, let me know what do you think of this project, the art, music, effects and story and what else would you like to do.
Next update will have the first festival and more ways to enjoy the life on this small cubic town.